Since times have been changing rapidly, the traditional one-armed bandit machines have turned into computer or mobile screens. The increasingly popular manner of playing is online gaming. The flashy land-based casinos have gone online and allow you to access all possible sorts of machine games with a few clicks, wherever you might be.
Slots are exceptionally popular when it comes to online casinos, and spinning the reels can become very addictive. Still, you will have to take a break at some point in your spree. You will probably wonder whether it is possible to continue the next day. The answer is — it depends.
If you are a slot player, you have probably noticed a substantial variety of games. It makes sense that the many titles would have their differences. We can tell you that some of the slots do not memorize your plays. Each new spin is independent, and the machine cannot gauge whether you have played before or not.
However, a number of casinos allow you to save your progress. You can make an account, join the leaderboards, and see how you compare to other players of the casino. One of the examples is Slotomania — a casino that lets you collect coins but not real money.
But if you are looking for some exciting, generous video slots that will allow you to keep playing while taking breaks, look no further. We are here to point you in the direction of a few titles you will not want to miss.
Devil's Delight
You might have heard about Devil's Delight or its sequel with the same title. This online slot game is sure to delight any gambler, a newcomer or a veteran in playing slots. The game features 20 paylines and 5 reels set in the fiery pits of hell. Since it is powered by NetEnt, one of the leading software providers, the graphics are enjoyable and engaging.
The hellish theme persists through all aspects of the game. The symbols include the Devil who represents the Expanding Wild and Pentagram as the Scatter. Do not be afraid of the Reaper because he comes bringing help as the Bonus Symbol in this online casino game.
The most innovative feature is the Soul Reaper Bonus Game, which you can activate by landing Bonus Symbols on select reels (3, 4, and 5). In this fun additional game, you are asked to connect characters to their sins.
When you do so correctly, you trap their souls inside a Soul-O-Meter. When you manage to get 15 souls, you will get access to the Sin Spins mode. Souls are only saved for 2 days, so make sure you arrive at the end in that span of time if you want to use the full potential of this feature.
Other unique opportunities for increasing your wins include Free Spins that are triggered after you get 3 or more Scatters. You can get anywhere from 7 to 17 spins. Devil's Delight also offers 1, 2, and 3-time Multipliers for a chance to get more sizable winnings.
The coin values go from 0.01 to 0.5, and the RTP of this game is a generous 97.6%.
Be sure to try out this classic slot that will wait for you to take a break.
Castle Builder
Another exceptional online slot with a successor is the Castle Builder. This innovative title consists of 5 reels and provides 15 paylines. The Rabcat software provided a slot that features 3 medieval kingdoms and unique gameplay.
Your mission is to build a castle, as you might have guessed from the slot's title. You will be visiting 3 different medieval kingdoms on the path to doing so. After you have accomplished the task of building the perfect castle, the king's daughter shows up. She will move in and get the opportunity to select her husband. The princess might choose a poor man, one of the average material possessions, or a rich one. Depending on who she picks, you might get a modest or a substantial reward.
While you are building, there will be different kinds of materials to help you out. These might be bronze, silver, or gold. The more valuable materials will lead to a more expensive castle.
The symbols are royal — kings, princes, and princesses. The most important is the Wild Card, represented by the Architect.
The minimum coin value is 0.01, while the maximum is 1.00. The RTP is at acceptable 96.47% so don't hesitate to check out this one-of-a-kind game and start building the castle of your dreams.
Sweet Alchemy
This video slot, powered by Play'n GO, brings back the widely popular Candy Crush Saga, but with some unique twists. The tooth-achingly sweet game comes with a 5×5 grid and a quirky character called Candy. Candy is an alchemist, and she is there to help you learn transmutation in order to get the big wins.
The slot's appearance is top-notch, with vibrant, candy-infused colors to set you in the right mood.
A good number of special features assist you on the way, while simultaneously making the experience all the more thrilling. One of these features is the striped candies — special Wilds that remove entire column/row when you land them in the winning line. The next tasty help is the chocolate-sprinkled candies that delete all the standard symbols once they form a winning combination.
Sweet Alchemy has a Sugar Rush Meter that gets progressively full as you accumulate your wins, and it resets every time a round finishes. As you fill the unique meter, Wild Symbols will appear on the reels — 2 dotted, 2 striped, and 2 regular symbols. If you get super lucky, and land on 38 winning symbols in a round, while having your Sugar Rush meter entirely full, the Mix the Elixir free round will become available to you. This sweet feature is played on a 9×9 grid and provides you with 3 different candy spells.
Additional Bonus round — the Spins round — lets you conjure up multiple candy spells — Sweet Surprise Wilds, Mixed Candy, and Sugar Bombs. If this was not enough, Sweet Alchemy offers another Bonus — Elixir of Power bonus — played on a 5×5 chocolate grid. The chocolate hides elixirs (yellow, green, pink, purple, and a blue elixir). If you find them, you will be rewarded with a prize of up to 10 times your total bet.
The bet values range from 0.01 to 100, while the RTP is about 96.5%. Sweet Alchemy will save your progress as you keep accumulating the winnings, so don't think twice about trying out this slot.
Immortal Romance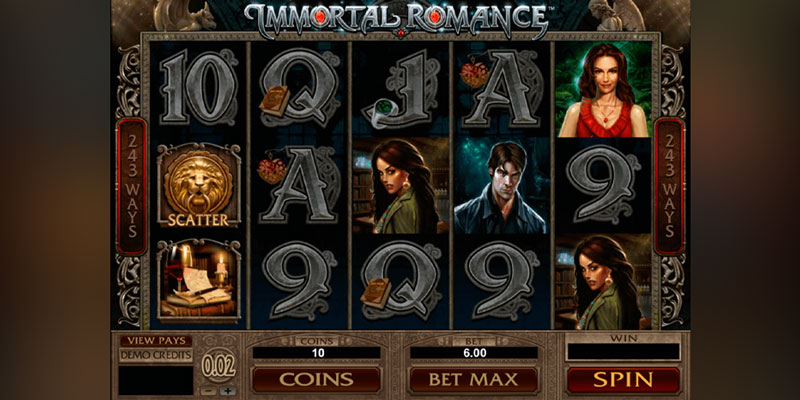 The Microgaming video slot draws inspiration from Sci-Fi shows and movies that revolve around vampires and their exhilarating love lives. It consists of 5 reels, offers 243 ways to win and many bonus features. Excellent graphics and animation will pull you into this thrilling world and keep you there. Therefore, you will want the game to remember your previous plays.
Multiple special features give flavor to the slot. One of them is Wild Desire — it activates randomly and has the ability to make up to five reels entirely Wild. Another unique feature is the Chamber of Spins. You may access this chamber after three or more Scatter Symbols show up anywhere on the reels. Attempt to unlock it more than once since the bonuses increase every time you enter it.
There are also four characters helping you on the way. Amber provides you with 10 Free Spins and a 5-time Multiplier. Troy shows up after the fifth activation, giving you 15 Free Spins and a Vampire Bat feature that will turn random symbols into 2-time and 3-time Multipliers.
Michael is even more giving. He appears at the 10th trigger, bringing 20 Free Spins with Rolling Reels, which can get the Multiplier of up to 5 times. Finally, there is Sarah. Her appearances are the rarest since you will need to trigger the Chamber of Spins 15 times. It makes sense that her gifts are the most generous — 25 Free Spins and the Wild Vines feature that will get you bonus substitutes.
Immortal Romance has a 96.86% RTP and saves your progress so if you are a fan of the supernatural, be sure to check out this slot.
Battlestar Galactica
Another Microgaming title that boasts great visuals and fluid animation is Battlestar Galactica. Inspired by the Sci-Fi show of the same name, this slot brings many opportunities for big wins. It features 5 reels, 243 paylines, and a multitude of bonus modes. The coin sizes go from 0.01 to 0.05, with the minimum bet per each line being 1 and the maximum bet 10. You should know that there is a requirement to play 30 lines during every spin.
The extra features include the Wild Symbol, Extra Wild, and the Scatter Symbol. Moreover, there are the Jump Bonus Game, Ion Storm Bonus Game, and the Free Spins Bonus Round with three interesting modes. The Normal and the Run Game modes activate randomly, as well as the Fight mode which is triggered during the Run mode and comes with the Free Spins Feature.
The Ion Storm Bonus can only be activated during the Normal mode. The stormy bonus makes up to five symbols go Wild. This feature comes without Scatter Symbols. The Wild Symbol is represented by the Battlestar Galactica's logo. It serves to substitute any other symbol bar the Scatter which appears as a ship.
The Extra Wild Feature shows its potential only in the Fight mode. This is when up to five symbols randomly transform into Wilds.
The Free Spins Round, if activated during the Normal mode, can triple the basic wins and gifts you 15 Free Spins. If it is triggered in the Fight mode, you will receive 5 Spins, a Multiplier, and potential extra spins at random.
This action-packed video slot has an RTP of 96.62% and memorizes your previous visits. Keep it in mind the next time you wish to gamble.