Slot machine games offer a really exciting gambling experience in real, live casinos. However, many players are turning to online slots because of the extra convenience. Web-based slots are available worldwide, and anyone can try them on mobile or desktop. When you try an online slot machine, you might notice some big differences compared to their land-based variants.
Virtual slots offer an enormous choice of themes with incredible graphics. Plus, there are many chances to win jackpots and big prizes. What's more, some features that gamblers might encounter are bonus games. The number and the types of bonus features are quite big, and if slots players trigger some, they are guaranteed to have tons of fun. Plus, they can get an even larger win compared to prizes during regular play.
So what is a bonus game in online slots? How do some typical bonus rounds work? This article will go over some of the key features of slot bonus games, different bonus round types, and explain how to win big in those rounds.
Online Slots
Online slots have become highly developed since their early beginnings a couple of decades ago.
Today, there are various kinds of online slot offers, including 3D interactive slots, progressive jackpot titles, classic and video slots, slots with variable paylines, and many others.

Furthermore, some slots can often be available for free. If players simply want to learn about some bonus games, a free mode can prove to be incredibly useful. Players can try it in many online casinos and expand their skills. However, they will undoubtedly have the most fun with real funds.
To someone who has never tried online slot machines, the gameplay is not so different compared to live slots. You have to place a bet, make the reels spin, and aim for a winning match of game symbols. If you match up the winning symbols (2 or more), a prize will be rewarded. However, each online slot title contains a specific set of rules regarding the game symbols and payout combinations.
Namely, if you visit the "Rules" or "Help" section of any slot, it reveals how you can activate the special features. And you can read all about the bonus games in that section.
Bonus Features
Another thing we think is important to mention is that you must be aware of scatter and wild symbols. The function of scatters is to show up on the slot reels anywhere. And when they pop up, regardless of their position, they can trigger or activate special bonuses.
Moreover, the wild symbols can substitute any other slot symbol in a winning match (excluding the scatter, of course). The wilds can come in several variants, such as stacked and expanding. The rules regarding wilds and scatters vary depending on the slot title you choose. For instance, some games may activate bonus rounds when players get a match of 2+ scatters.
What Are Slot Bonus Games?
All in all, most bonus games are different, but we can categorize them according to some common bonus game types. Here are some of the most common ones:
Pick and Match
Pick to Win
Skill-Based Game
Spin the Wheel
Free Spin Feature
Re-Spins
Instant Win
Bonus Wilds
It's also necessary to understand that not all online slots will contain bonus games. To learn whether or not the slot you choose has one or more bonus rounds, players need to look into the game rules.
Sometimes, slot games without any can come with higher odds of winning in regular spins. Nevertheless, we believe bonus rounds will make things a lot more interesting. Players are increasingly becoming drawn to titles that have fun special features. Additionally, most top slots feature them. In fact, most online gamblers tend to pick ones with bonus games.
Bonus Game Types
As we have shown you in the list above, there are about 8 main kinds of bonus game. There are other types as well, like the double or nothing feature or a 50/50 coin toss, for example.
But what happens during a bonus round? What can you win?
Well, players can trigger bonus rounds during any point of their gameplay. Like we've said before, a bonus game will usually trigger if you obtain several scatters on the reels. However, some can be activated at random. Additionally, there are some games that you can activate only once and some that can be triggered multiple times.
Furthermore, depending on the bonus game type, they will give you some unique wins. When you activate bonus games, you can win multipliers, free spins, cash prizes, and more. So let's elaborate on some of the typical bonus games.
Pick and Match & Pick to Win
When players trigger the Pick and Match feature, a mini-game will be activated. It will usually take you to another screen and show a collection of various objects or items that are hidden. The object is to match two or more symbols to get a prize such as free spins or multipliers.
Additionally, the Pick to Win round is similar but will show some symbols with a concealed item behind them. If players select a symbol and get lucky, they will find a prize behind it.
Skill-Based Game
Skill-based bonus games, or pathway games, are among the most fun bonus features. This type is also a form of mini-game that will pop up on another screen. However, it plays more like a video game. In general, there is a series of challenges that will help you unlock big prizes. For example, you will need to locate a number of different treasure chests in a pirate-themed game, etc.
These bonus rounds come with tons of interactivity, amazing graphics, and can prove to be quite rewarding. However, it might take a little more effort to trigger them.
Spin the Wheel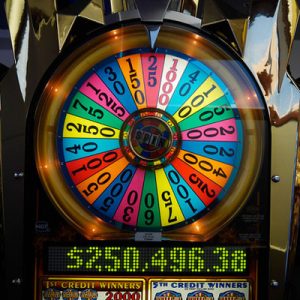 Like its name states, this bonus game will challenge you to spin the wheel to win prizes.
The prizes are featured on the wheel. And when you spin it, you can land on a prize as it comes to a halt. Some slots will feature a meter that will fill up as you play, and thus, allow you to trigger the feature.
Free Spins
These are the most common bonus rounds. Depending on the rules, (e.g., if you get 3 scatters), you will activate the feature. When you obtain the free spins bonus, the machine will let you play without placing wagers. You can receive a specific number of free spins like 5, 10, 20, or even a few hundred depending on the game. In some cases, your prize might be multiplied during those free spins (e.g., 2x, 3x multiplier). During some free spins, some symbols such as wilds can remain on the screen while you spin.
Re-Spins
On the other hand, you may get a re-spin bonus at any moment in the game at random. The re-spin feature does not guarantee a win, but it can come in handy. It is essentially a "do over" in case you keep losing. In some games, when you trigger it, the re-spin will last until you land a win.
Instant Win
A lot of players love this feature since it essentially allows you to receive an instant prize when you activate it. You can get an instant cash prize during this win. It's similar to a jackpot but not as big.
Bonus Wilds
Some slots may contain the bonus wilds or extra bonus wilds feature. A slot can give you bonus wilds after a spin. Essentially, it will make wilds appear all over the reels. Since those wilds can substitute any other symbol, it can lead to big wins.
So What's a Good Bonus Game?
Not all bonus games can pay off. Some might set quite a high bar in order for you to activate them. That's why it's very important to research a slot before playing it so that you don't waste a lot of money trying to score impossible bonus rounds. Some of the best bonus games you can play are RTG's Asgard, Boy King's Treasure, Cash Bandits 2, Pirate Isle, etc.
Bonus Features: A Spectacular Slot Experience
Hopefully, you have now learned the basics of bonus games in slots. When you play online slots with bonus games, you will see exactly why they are among the most thrilling casino games. There is a vast number of bonus features that you can try, and you can use them to your advantage to get lucky. So all that's left now is for you to start playing. Good luck!